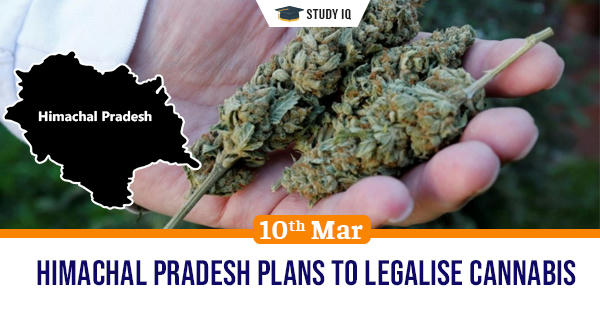 Himachal Pradesh plans to legalise cannabis
Date: 10 March 2021
Tags: Miscellaneous
Issue
Himachal Pradesh government is planning to come up with a policy to allow controlled cultivation of cannabis in the state.
Details
The state government is planning to legalise commercial cultivation of the species for non-recreational uses such as fabrics and medicinal purposes.

Indian government has banned the growing of cannabis plant under the Narcotic Drugs and Psychotropic Substances (NDPS) Act.

The government has powers to allow controlled and regulated cultivation for obtaining its fibre and seed for industrial and horticultural reasons.
Uses of Cannabis
In different regions of Himachal Pradesh, cannabis have traditionally been used for making footwear, ropes, mats, food items, etc.

Seeds from the plants can also be used for making paint, ink and biofuel.

Products from cannabis are increasingly being used for health and medicinal purpose.
Reason for legalisation
Proponents have been demanding legalising cannabis cultivation in order to strengthen the state's economy, which has been ravaged by Covid-19 pandemic.

The government also plans to generate employment and become economically self-reliant by promoting its cultivation.
Misuse of cannabis
Cannabis contains chemicals that act as intoxicants. The leaves and flowers are dried and used for recreational purpose.
Legalised states
Uttarakhand is the first state that had legalised cultivation of cannabis in 2018. However, it had allowed only those species that have a low concentration of tetrahydrocannabinol (THC).

Uttar Pradesh has also adopted a similar method. Madhya Pradesh and Manipur are also planning to adopt similar policy.