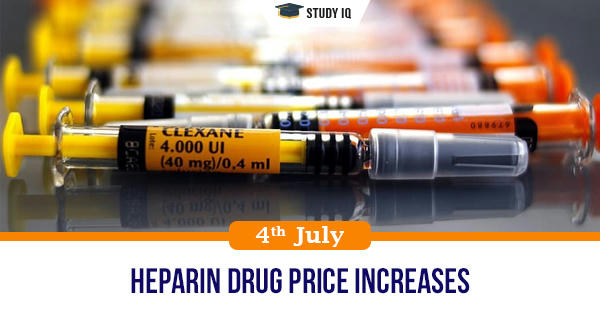 Heparin drug price increases
Date: 04 July 2020
Tags: Miscellaneous
Issue
India's drug pricing regulator has allowed pharmaceutical companies to increase the ceiling price of essential medicine heparin by 50 percent until December 31.
Background
This may only be the first of several drugs to get a price hike as the country tries to tackle the Covid-19 outbreak as well as banning raw materials from China.
Details
Heparin is a blood thinner that has long been used in patients vulnerable to blood clots in their legs, lungs, heart or other body parts.

It is used to reduce their risk of heart attacks, strokes, and pulmonary embolism. Several patients with critical illnesses, including those requiring kidney dialysis, are given the drug.

Because it is so essential to high-risk patients, the National Pharmaceutical Pricing Authority (NPPA) had capped heparin's ceiling price sometime in 2018. However, there have been instances of shortage of this drug during the pandemic.

This is because the active pharmaceutical ingredient (API), which forms a considerable amount of the cost of making the drug in India, has increased drastically. APIs are crucial elements in drug production as they give medicines their therapeutic effect.

The first time NPPA increased the prices of medicines under price control was in December 2019, where it hiked, by 50 percent, prices of 21 drugs integral to public health programmes and often used as the first line of treatment.

This included the BCG vaccine for tuberculosis, vitamin C, antibiotics like metronidazole and benzylpenicillin, anti-malarial drug chloroquine and leprosy medication dapsone.

The country heavily relies on China for various APIs used to make crucial antibiotics and vitamins. In the last three-six months, prices of APIs from China have gone up 20-35 percent.

This means that a snag in the supply chain from China could disrupt the availability of medicines made in India. It could also hit the availability of medicines in other countries that import from India as well.

While the development also comes at a time when tensions between India and China have been on the rise, it is separate from this issue.

The increase in heparin's API costs have happened over the course of the last two years. Even the costs of APIs for other drugs from China have been on the rise since before the clash at Galwan Valley.

Chinese firms took a hit when they had to shut their factories temporarily or were facing difficulties in exporting their APIs during their lockdown. Some of the hikes in API costs are because of such firms trying to recover the costs they endured from this impact.