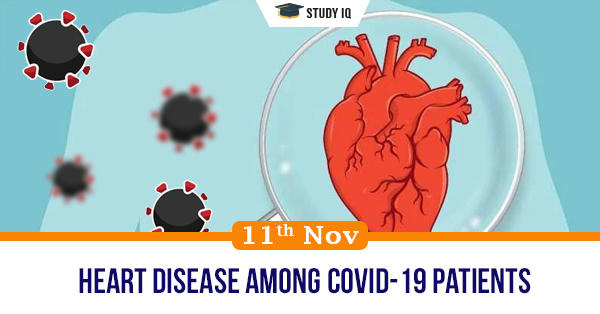 Heart disease among Covid-19 patients
Date: 11 November 2020
Tags: Miscellaneous
Issue
A new study has reviewed the prevalence and outcomes of hospitalised Covid-19 patients with heart rhythm disorders such as atrial fibrillation and atrial flutter.
Background
Heart diseases are life threatening and the effect of Covid-19 on heart can cause serious repercussions on human health.
Details
While the virus's impact on the respiratory system was expected and has since been well documented, it is now emerging that other major organs are at significant risk of related potentially long-term damage too.

This has set off a race among scientists and the global cardiology community to understand and address the emerging damage Covid-19 can wield on the human coronary system.

The report says that the virus can blunt the function of ACE2 receptors, which normally help protect heart cells and degrade angiotensin II, a hormone that increases blood pressure.

In-hospital atrial arrhythmias were associated with even higher risk of death, as well as multi-organ failure, such as respiratory and renal failure.

The researchers cite the need for more investigation to understand the mechanisms of heart injury from Covid infection and methods to prevent this complication.