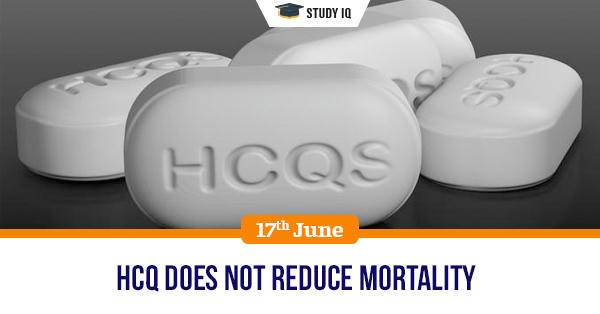 HCQ does not reduce mortality
Date: 17 June 2020
Tags: Miscellaneous
Issue
The RECOVERY trial to test five drugs, including hydroxychloroquine, has found no clinical benefit from use of hydroxychloroquine in hospitalised patients with COVID-19.
Background
The trial investigators found that there was no significant benefit in mortality reduction in the intervention group, which was the primary objective.
Details
The RECOVERY trial is a dynamic trial assessing five candidate drugs and convalescent plasma therapy for treating COVID-19 in patients in U.K. hospitals. The trial has enrolled over 11,000 patients.

It came to light that the drug did not have the desired beneficial effects. Therefore it was decided to stop enrolling participants to the hydroxychloroquine arm of the RECOVERY Trial with immediate effect.

The researchers found that there was no significant difference in the primary endpoint of 28-day mortality.

While mortality was 25.7% in the intervention group, the control group had 23.5% mortality, which is not statistically significant.

Hydroxychloroquine and chloroquine have received a lot of attention and have been used very widely to treat COVID patients despite the absence of any good evidence.

The RECOVERY trial has shown that hydroxychloroquine is not an effective treatment in patients hospitalised with COVID-19.

Another trial found that hydroxychloroquine drug was not effective even as a post-exposure prophylaxis in asymptomatic participants who have had high-risk exposure with a confirmed COVID-19 case.

While 49 of 414 (11.8%) participants who received the drug developed illness, 58 of 407 (14.3%) participants who got the placebo fell ill. Side-effects were more in the intervention group but no serious adverse events were reported.