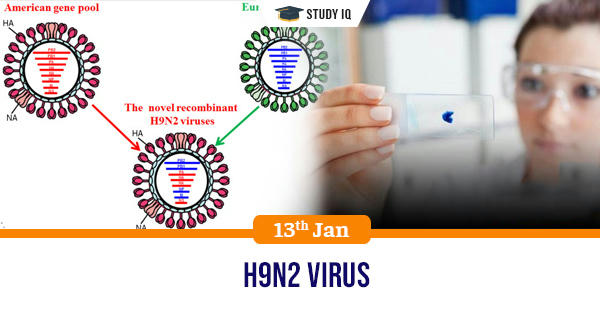 H9N2 virus
Date: 13 January 2020
Tags: Miscellaneous
Issue
Indian scientists have detected the country's first case of infection with a rare variant of the virus that causes avian influenza, or bird flu.
Background
Scientists of the National Institute of Virology (NIV), Pune, have reported avian influenza A(H9N2) virus infection in a 17-month-old boy in Maharashtra.
Details
The virus was picked up in February 2019 during a community-based surveillance study in 93 villages of Korku tribes in Melghat district of Maharashtra.

Identification of the first clinical human case of H9N2 virus infection highlights the importance of systemic surveillance in humans and animals to monitor this threat to human health.
H9N2
H9N2 is a subtype of the influenza A virus, which causes human influenza as well as bird flu. The H9N2 subtype was isolated for the first time in Wisconsin, US in 1966 from turkey flocks.

H9N2 viruses are found worldwide in wild birds and are endemic in poultry in many areas. However, they are somewhat neglected.

With avian influenza viruses circulating in poultry, there is a risk for sporadic infection and small clusters of human cases due to exposure to infected poultry or contaminated environments.

H9N2 virus infections in humans are rare, but likely under-reported due to typically mild symptoms of the infections. Cases of human infection have been observed in Hong Kong, China, Bangladesh, Pakistan, and Egypt.