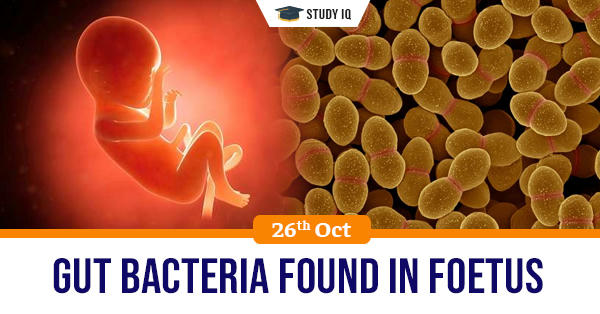 Gut bacteria found in foetus
Date: 26 October 2019
Tags: Miscellaneous
Issue
A study in humans and mice demonstrated that a fetus has its own microbiome, or communities of bacteria living in the gut, which are known to play important roles in the immune system and metabolism.
Background
Research has established that specific microbiome characteristics play causal roles in obesity, allergy, asthma, diabetes, autoimmune disease, depression and a variety of cancers.
Details
Establishing a dynamic microbiome in the fetus ensures that controlled exposure to microbes trains the developing immune system and metabolism.

Study provided strong proof that a complex microbiome is transmitted from the mother to the foetus.

Scientists can now pursue ways to boost the development of the fetal immune system and metabolism by stimulating mom's microbiome.
Gut bacteria
Human gastrointestinal microbiota, also known as gut flora or gut microbiota, are the microorganisms that live in the digestive tracts of humans.

The four dominant bacterial phyla in the human gut are Firmicutes, Bacteroidetes, Actinobacteria, and Proteobacteria.