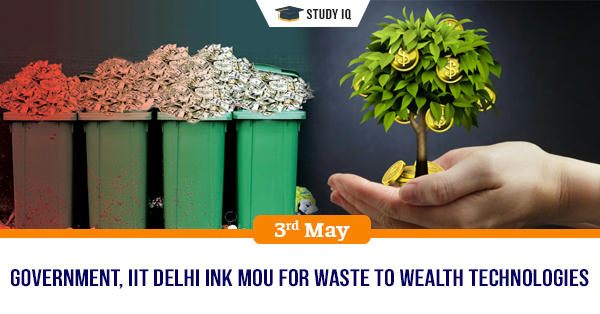 Government, IIT Delhi ink MoU for Waste to Wealth Technologies
Date: 03 May 2019
Tags: Miscellaneous
Union Government and Indian Institute of Technology Delhi (IIT-Delhi) have signed Memorandum of understanding (MoU) to set up Centre of Excellence for Waste to Wealth Technologies. It was signed by Office of Principal Scientific Adviser (PSA) of Union and IIT Delhi to commemorate the 150th birth anniversary of Mahatma Gandhi
Under this MoU
Union Government and IIT-Delhi partnership will provide effective platform for stakeholders to bring together integrated approaches for effective recycle, reuse and resource recovery of waste.

Their focus will be to consolidate all possible Waste to Wealth Technologies, learn from best practices followed worldwide and implement them at ground level at Indian cities.

The waste to wealth mission project already has been approved under the recently constituted Prime Minister's Science Technology and Innovation Advisory Council (PM-STIAC).

Moreover, IIT Delhi also has already identified waste to wealth as focus area and many of its faculty members are already working on a variety of projects related to waste management.
Centre of Excellence for Waste to Wealth Technologies
It aims aim to bring best of science and technology to implement waste management.

It will implement sustainable, scientific and technological solutions for waste management, through validation and deployment of available technologies for transformation of waste to wealth.
Prime Minister's Science, Technology And Innovation Advisory Council (PM-STIAC)?
It is overarching body for assessment, creation and implementation of major scientific, technology and innovation interventions for India. It is 9-member body headed by Principal Scientific Adviser K. Vijay Raghavan. It act as high-level advisory body to several ministries and execute mission-oriented programmes. It also renders advice on all matters related to Science, Technology and Innovation and monitors implementation of Prime Minister's vision on these issues.