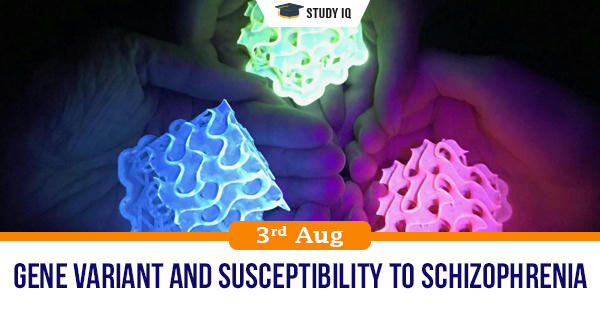 Gene variant and susceptibility to schizophrenia
Date: 03 August 2020
Tags: Miscellaneous
Issue
Recently, a pilot study on a south Indian, Tamil-speaking group with schizophrenia has found an association of specific alleles with the disease.
Background
Schizophrenia is a constellation of symptoms such as hearing voices, false beliefs and trouble with thinking and concentration, and its cause is not exactly known.
Details
The researchers found that there was a higher frequency of HLA class I alleles in individuals with schizophrenia as compared to the controls. Individuals carrying these alleles could be susceptible to schizophrenia.

They also found a negative correlation with some alleles which were found in lower frequency in individuals with schizophrenia. These could be protective alleles in schizophrenia.

The researchers also studied the type of amino acid present in the peptide-binding groove of the HLA molecule and compared it among patients and controls, finding a significant difference.

Studies of schizophrenia among groups of varied ethnicities across the world have shown associations of the disease with alleles (variant genes) related to the human leukocyte antigen.

It is an important part of the immune system and related to a group of genes on chromosome six. However, the specific allele that was found to be associated with schizophrenia varied from group to group.

HLA is important for the proper functioning of the immune system and its variations can lead to immunological abnormalities. When the immune system acts up, as in autoimmune disorders, generating anti-NMDA receptor antibodies, it can lead to schizophrenia.

Studies done in Saudi Arabia and Tunisia have shown a particular HLA allele to be a risk factor for schizophrenia but in the Japanese population, it was a different allele.

The occurrence of different variants itself is not a problem, as HLA genes are extremely variable and are very different across human populations.