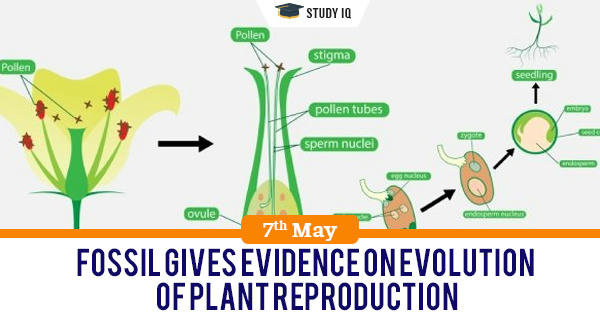 Fossil gives evidence on evolution of plant reproduction
Date: 07 May 2020
Tags: Miscellaneous
Issue
The evolution process of plants has been a mystery for scientists across the world. Recently, a team of researchers studied plant fossils with an aim to discover the origin period of evolution in plant reproduction.
Background
Evolution is a gradual process which continues for years. Little insights into old fossils give us important information about the evolution process of plants, which largely remains a mystery.
Details
To conduct the research, the team studied around 30 small rock fragments at the museum, originally excavated from the Campbellton Formation of New Brunswick in Canada. Over 80 reproductive structures were identified and studied by these scientists.

While most of these structures contained spores, an important part of the reproduction process in plants, the difference in these spores got the team excited to dig further.

These fossils give an insight into the period when the evolution process began in the plants. The fossilised species belongs to the early Devonian geological period, spanning between 419.2 million and 358.9 million years ago.

Plant evolution is the subset of evolutionary phenomena that concern plants. Evolutionary phenomena are characteristics of populations that are described by averages, medians, distributions, and other statistical methods.

It includes the study of genetic change and the consequent variation that often results in speciation, one of the most important types of radiation into taxonomic groups called clades.