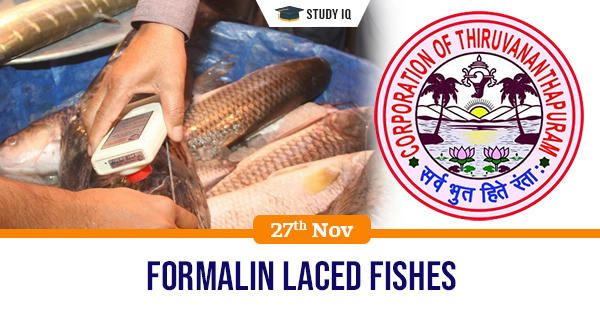 Formalin laced fishes
Date: 27 November 2019
Tags: Miscellaneous
Issue
Formalin laced fishes were seized from various fish markets of the city of Thiruvananthapuram. These fishes were especially brought from other states.
Background
Fish has a small shelf life due to which they are susceptible to spoil within few hours of the catch. Various chemicals, including formalin is used to increase its shelf life.
Details
Formalin
Formaldehyde is a naturally occurring organic compound with the formula CH?O. It is the simplest of the aldehydes.

The common name of this substance comes from its similarity and relation to formic acid. Formaldehyde is an important precursor to many other materials and chemical compounds and is a chief cancer causing agent.

It is used chiefly as a preservative for biological specimens.
Formalin consumption
While formalin can cause nausea, coughing and burning sensation in eyes, nose and throat in the short term, it can cause cancer if consumed over a long period of time.
Avoiding formalin in fish
Consumers should wash fish thoroughly with running tap water, as formaldehyde is soluble in water.

Cook fish thoroughly to an internal temperature of 75°C or above, as heat from cooking can also aid the removal of formaldehyde.

Consumers can check the fish for adulteration using rapid detection kit.