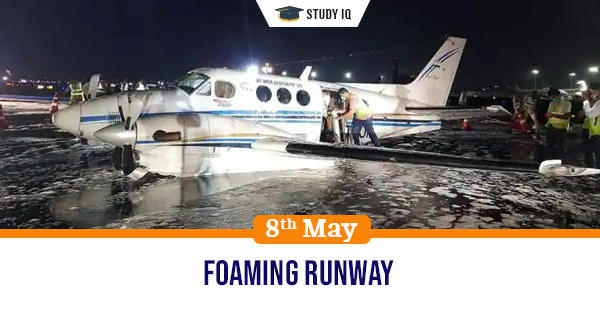 Foaming runway
Date: 08 May 2021
Tags: Miscellaneous
Issue
Recently a medical aircraft made a hard landing on its belly after its wheel had separated from the body during take-off.
Background
The aircraft was transporting a patient from West Bengal to Mumbai. It's wheel separated while taking off from Nagpur after re-fuelling.
Details
The most unique part during its landing was that airport officials sprayed foam on the runway during its hard landing.

A foam path is a method of spraying fire resistant foam on the runway before an emergency landing. This is to prevent aircraft from catching fire.

During the crash landing, liquid fuel escapes from aircraft and evaporates to form air-vapour mixture that is highly flammable.

The foam will cover the liquid and prevent it from evaporating or forming the dangerous flammable compound.

This method is typically used when landing gear of an aircraft has failed or cannot be used. In such a condition, there is usually sparking due to friction that can causes fire.
Concerns
Several leading aviation agencies took back the recommendation given to use foam path citing improper evidence of success.

They suggested considering factors such as pilot experience, wind and visibility conditions, skill and visual etc before using this technique.

Data has also shown that landing made by using foam pathway have not shown reduction is risk of fire or damage to aircraft.

There is also increasing evidence to suggest that foams will not prevent liquid fuel from evaporating and forming an inflammable compound.