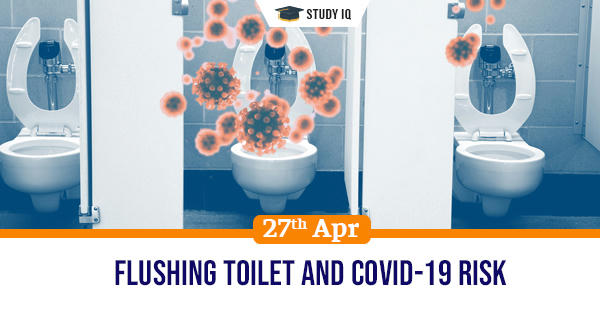 Flushing toilet and Covid-19 risk
Date: 27 April 2021
Tags: Miscellaneous
Issue
A new study has flagged risks of transmission of SARS-CoV-2 virus through aerosols generated by flushing toilets.
Background
Recent studies have shown that aerosols are major medium of transport of infection from one person to another.
Details
The current evidences show that Coronavirus is present in gastro-intestinal tract and in sewage but its presence in faeces in not verified.

There are chances that Coronavirus may affect intestines and may be present in faeces but faecal-oral transmission is not yet registered.
The new study
The new study did not measure virus quantity but looked at amounts of aerosols generated during toilet flushing.

They say that transmission through bio-aerosols is very low but it still provides a viable route for transmission of infection.

The risk however increases in a confined area containing aerosols such as public washrooms where large people are present and high viral load may be generated in flushing.
Findings of study
To measure aerosol levels, researchers placed particle counter at various levels of toilet and urinal to capture size of droplets.

They measures aerosol levels during flushing toilet openly, with lid closed and also urinal flushing both before and after.

After more than 100 flushes, the aerosol levels increased substantially to spread across the room. It lingered for around 20 seconds before moving ahead.

The difference in droplet levels during flushing with open lid or with closed lid did not vary much, indicating escaping of droplets from gaps.
Implications
The researchers have asked for proper ventilation in public spaces such as washrooms where there are high chances of transmission.