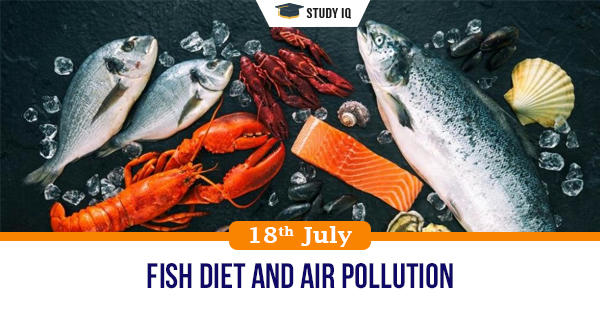 Fish diet and air pollution
Date: 18 July 2020
Tags: Miscellaneous
Issue
New research has suggested that eating fish may help protect the brain from the effects of air pollution.
Background
The study was conducted on a group of older women who ate more than one to two servings a week of baked or broiled fish or shellfish. Fried fish is not thought to bring the same benefits.
Details
As humans age, the chances of stroke, white matter lesions, and dementia also rise, along with a level of memory impairment. Other factors such as stress may also cause certain areas of the brain to shrink in size.

Previous research had found that air pollution can affect the brain. Fish are known to be a source of omega 3 fatty acids. These fatty acids play an important role in the human diet and in human physiology and have several health benefits.

The research investigated whether regular consumption of omega 3 fatty acids counteracts the effect of air pollution on the brain. Specifically, they measured omega 3 fatty acid levels and brain volumes of participants and correlated these with their fish intake as well as PM2.5 levels in their home areas.

From the diet questionnaire, researchers calculated the average amount of fish each woman consumed each week.

This included broiled or baked fish, canned tuna, tuna salad, tuna casserole, and non-fried shellfish, but fried fish was not included because deep-frying is known to damage omega-3 fatty acids.

Participants were given blood tests. Researchers measured the amount of omega-3 fatty acids in their red blood cells.

The women underwent structural brain MRIs in 2005-2006 to determine the impact of PM2.5 on their brain volumes.

Among women who lived in areas with high air pollution and had the lowest levels of omega-3 fatty acids, the researchers found more brain shrinkage than among those with higher levels of omega-3 fatty acids.

The researchers have cautioned that their study has only established an association between levels of omega-3 fatty acids and brain volumes. It does not directly prove that eating fish preserves brain volume.

A 2019 study reported PM2.5's effects on the central nervous system which it can reach through a variety of pathways.

For instance, PM2.5 can destroy the integrity of the blood-brain barrier and reach the central nervous system. Alternatively, PM2.5 could enter the brain through the olfactory nerve.