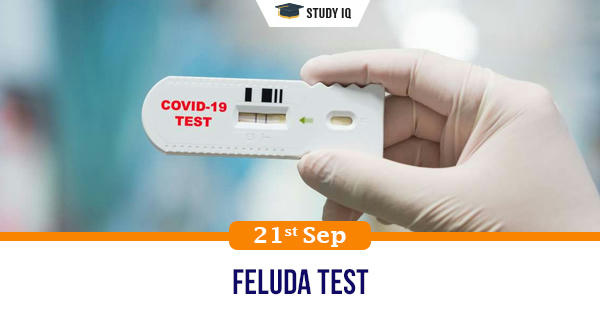 Feluda test
Date: 21 September 2020
Tags: Miscellaneous
Issue
An accurate and low-cost paper-based test strip to detect Covid-19 in less than 30 minutes has been approved for commercial launch by the Drugs Controller General of India.
Background
The test has been named 'Feluda', a fictional private detective from West Bengal created by renowned writer and filmmaker Satyajit Ray.
Details
Feluda, the acronym for FNCAS9 Editor Linked Uniform Detection Assay, uses indigenously developed CRISPR gene-editing technology to identify and target the genetic material of SARS-CoV2, the virus that causes Covid-19.

According to CSIR, the test matches accuracy levels of RT-PCR tests, considered the gold standard in the diagnosis of Covid-19, has a quicker turnaround time and requires less expensive equipment.

Moreover, 'Feluda' is also the world's first diagnostic test to deploy a specially adapted Cas9 protein to successfully detect the virus.

CRISPR, short form for Clustered Regularly Interspaced Short Palindromic Repeats, is a gene editing technology and finds its use in correcting genetic defects and treating and preventing the spread of diseases.

The CRISPR technology can detect specific sequences of DNA within a gene and uses an enzyme functioning as molecular scissors to snip it. It also allows researchers to easily alter DNA sequences and modify gene function.

The Feluda test is similar to a pregnancy test strip that will just change colour upon detection of the virus and can be used in a simple pathological lab.

The Cas9-SARS-CoV2 complex is then put on the paper strip, where using two lines (one control, one test) makes it possible to determine if the test sample was infected with Covid-19.