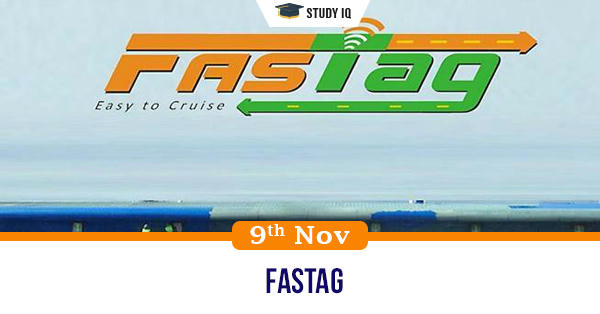 FASTag
Date: 09 November 2020
Tags: Miscellaneous
Issue
The government has said FASTag will be mandatory for four-wheelers category of vehicles that were sold before 1 December, 2017.
Details
FASTag is a prepaid tag that enables automatic deduction of toll charges and lets the vehicle pass through the toll plaza without stopping for the cash transaction.

FASTag is affixed on the windscreen of the vehicle. It allows for direct payment of fee from the prepaid or savings account linked to it and enables vehicles to drive through without stopping for transactions.

FASTag is implemented using passive radio frequency identification (RFID) technology to ensure seamless movement of traffic.
Benefits of FASTag
Ease of payment-There is no need to stop at tolling centre for any cash transaction.

No stoppage of vehicle means lower wastage of fuel.

Ease of recharge, FASTag can be recharged online using internet banking, debit or credit cards.
RFID
Radio-frequency identification (RFID) uses electromagnetic fields to automatically identify and track tags attached to objects.

An RFID tag consists of a tiny radio transponder; a radio receiver and transmitter. When triggered by an electromagnetic interrogation pulse from a nearby RFID reader device.

The tag transmits digital data, usually an identifying inventory number, back to the reader. This number can be used to track inventory goods.