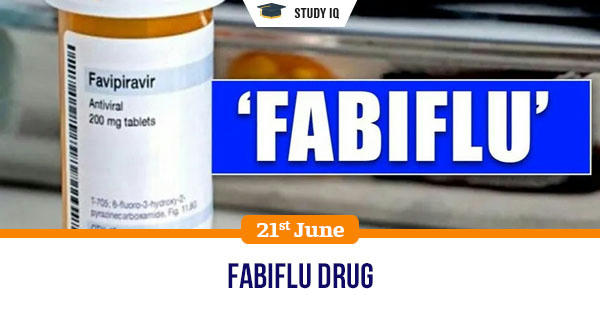 FabiFlu drug
Date: 21 June 2020
Tags: Miscellaneous
Issue
Glenmark Pharmaceuticals has received manufacturing and marketing approval from India's drug regulator, making FabiFlu the first oral Favipiravir-approved medication in India for the treatment of COVID-19.
Background
FabiFlu will be used for treating COVID-19 patients with mild to moderate symptoms and will be made available by next week across the country.
Details
On the first day, a patient will be administered 1800 mg twice each. From the second day, the patient will be given 800 mg twice a day for upto 14 days as per the doctor's advice. The medicine can be administered to patients between the age group of 18 and 75.

Since the approval is under emergency category due to the pandemic, the patient has to give an undertaking before consuming the medicine.

70 to 80% of Covid-19 patients are from the mild and medium category for which the drug has been approved. A patient of this type need not be admitted to the hospital and can stay at home.

Once administered the drug will help in bringing down the viral load on the patient. Glenmark is the first company to come out with an oral antiviral drug for mild and moderate Covid-19 treatment.

Favipiravir can be used in Covid-19 patients with co-morbid conditions such as diabetes and heart disease with mild to moderate Covid-19 symptoms.

It offers rapid reduction in viral load within four days and provides faster symptomatic and radiological improvement.

Favipiravir has been used in Russia, Japan and China to treat such patients and has been proved successful.

At the moment the drug will be under restricted use, which means it can be consumed only under doctor's guidance and supervision. People without prescription cannot buy it.
Favipiravir
Favipiravir is an oral antiviral approved for the treatment of influenza in Japan. It selectively inhibits RNA polymerase, which is necessary for viral replication. Favipiravir does not inhibit RNA or DNA synthesis in mammalian cells and is not toxic to them.