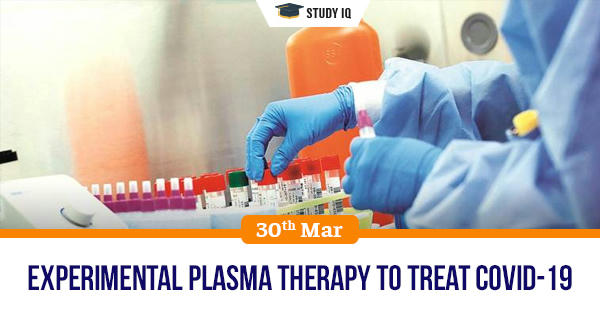 Experimental plasma therapy to treat COVID-19
Date: 30 March 2020
Tags: Miscellaneous
Issue
The Houston Methodist Hospital took blood from a patient who had recovered from COVID-19 patient two weeks ago, and infused it into another critically ill patient.
Background
With no specific treatment available for novel coronavirus disease and a vaccine at least a year away, the US Food and Drug Administration (FDA) last week approved use of blood plasma from recovered patients to treat severely critical COVID-19 patients.
Details
It is called convalescent plasma therapy. It seeks to make use of the antibodies developed in the recovered patient against the coronavirus.

The whole blood or plasma from such people is taken, and the plasma is then injected in critically ill patients so that the antibodies are transferred and boost their fight against the virus.

A study in The Lancet Infectious Diseases had said a COVID-19 patient usually develops primary immunity against the virus in 10-14 days. Therefore, if the plasma is injected at an early stage, it can possibly help fight the virus and prevent severe illness.

The United States had used plasma of recovered patients to treat patients of Spanish flu (1918-1920). Hong Kong used it to treat SARS patients in 2005. In 2009, H1N1 patients were treated with plasma.

In 2014, the World Health Organization released guidelines to treat Ebola patients with convalescent whole blood and plasma. The WHO observed that convalescent plasma has been used successfully for the treatment of a variety of infectious agents for which no treatment is available.

The process to infuse plasma in a patient can be completed quickly. It only requires standard blood collection practices, and extraction of plasma.

Plasma from only recovered patients must be taken, and donation must be done from people not infected with HIV, hepatitis, syphilis, or any infectious disease.

COVID-19 does not have a specific treatment, only supportive care, including antiviral drugs, oxygen supply in mild cases and extracorporeal membrane oxygenation.

For this experimental therapy to be tried out in India, the Drug Controller General of India will first have to grant blood banks approval for removal of plasma from recovered COVID-19 patients.