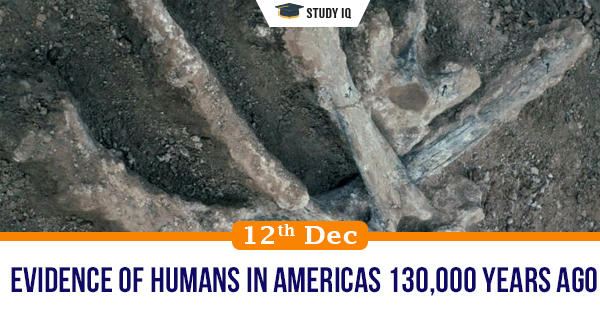 Evidence of Humans in Americas 130,000 years ago
Date: 12 December 2020
Tags: Miscellaneous
Issue
A team of archaeologists in the United States have said that the first human settlers in the Americas arrived at least 100,000 years earlier than previous thought.
Background
The evidence came from a collection of mastodon bones and ancient stones dating back to around 130,000 years ago, which appeared to have been hammered and scraped by early humans.
Details
The remains were found in the suburbs of San Diego in the 1990s, and the researchers think that the nearby stones may have been used as hammers and anvils to work on the bones.

For years, scientists have been going back and forth over the results and whether or not they indicate the presence of humans in North America 130,000 years ago.

The ancient artefacts were found near a road work site, so some critics think the bones were broken and scraped by the activity of trucks and other similar disturbances.

Even in the soil, bone residues from these mastodons were discovered at much lower concentrations than what was measured on some parts of the cobblestones.

Still, there is one key missing ingredient: collagen. This is an important part of mammal bones, and if stones were used to break apart the mastodon skeleton, there would be some traces of collagen.

Today, most evidence suggests human settlers arrived in the Americas roughly 14,000 to 20,000 years ago. A date of 130,000 years is a big claim, and it requires extraordinary evidence, which some scientists argue is lacking.