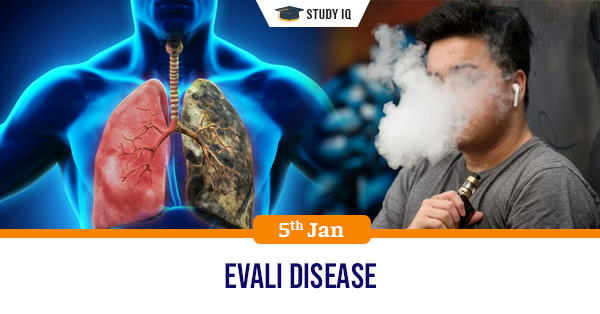 EVALI disease
Date: 05 January 2020
Tags: Miscellaneous
Issue
The number of deaths in the US caused due to the mysterious respiratory illness, named as EVALI, linked to vaping and e-cigarettes rose immensely.
Background
The Indian government has banned the production, import, distribution, and sale of electronic cigarettes, with penalties ranging from Rs 1-5 lakh fine and 1-3 years imprisonment.
Details
The CDC is tentatively referring to the disease as EVALI (e-cigarette, or vaping, product use associated lung injury).

E-cigarettes, also called 'vapes' or 'electronic nicotine delivery systems (ENDS)', are battery-run devices that were originally marketed as a safer alternative to smoking traditional cigarettes.

Minors have been particularly affected, with a survey showing that as many one in five and one in 20 students going to high school and middle school respectively using e-cigarettes.

The US administration has said that all e-cigarettes would have to undergo a Food and Drug Authority (FDA) review, and only those that can demonstrate a benefit for public health would be allowed to stay on the market.
EVALI
The disease 'EVALI' is unknown to doctors, and a link between vaping and the lung illness is yet to be concretely established.

Symptoms are those in common with other respiratory illnesses, including coughing, chest tightness, shortness of breath, extreme fever or fatigue.
Vaping
Vaping is the inhaling of a vapor created by an electronic cigarette (e-cigarette) or other vaping device. E-cigarettes are battery-powered smoking devices.

They have cartridges filled with a liquid that usually contains nicotine, flavorings, and chemicals. The liquid is heated into a vapor, which the person inhales.