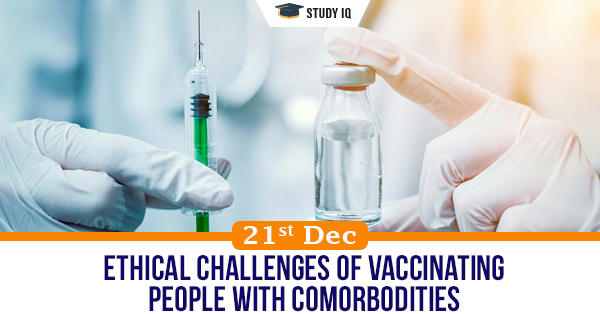 Ethical challenges of vaccinating people with comorbodities
Date: 21 December 2020
Tags: Miscellaneous
Issue
The operational guidelines for COVID-19 vaccination issued recently by the union health ministry have identified the four high-risk groups that would receive COVID vaccine on priority.
Background
Unlike in other groups, national databases of people with comorbidities are not available. However, State governments have been conducting population-based district level screening to detect non-communicable disease.
Details
Hypertension, diabetes, liver disease, heart disease, asthma, chronic renal failure, chronic obstructive pulmonary disease (COPD), cancer and bronchitis have been associated with hospitalisation and disease severity.

Considering a range of comorbidities that increases the risk of disease severity, there is no clarity regarding which comorbodities should be given priority.

As per the evidence elsewhere, diabetes, hypertension, coronary artery disease and chronic kidney disease increase the risk of COVID-19.

There are indicators that people with multiple comorbidities are at greater risk and hence should be prioritised over those with a single comorbidity.

In general, elderly people with multimorbidity, elderly with any comorbidity, elderly, young with multimorbidity, and young with any comorbidity seems to be a sensible order of priority.

The most affected will be the poorer sections as they have poor knowledge of their comorbidity. It is the rich who keep record of their health conditions and are likely to benefit.

Another ethical challenge revolves around gender. Males have been found to be at a greater risk of progressing to severe disease and even dying compared with females.

Risk of severe disease and death is higher in males than in females, particularly in older age groups. However, prioritising males with comorbidities over females will result in inducing and worsening inequities.