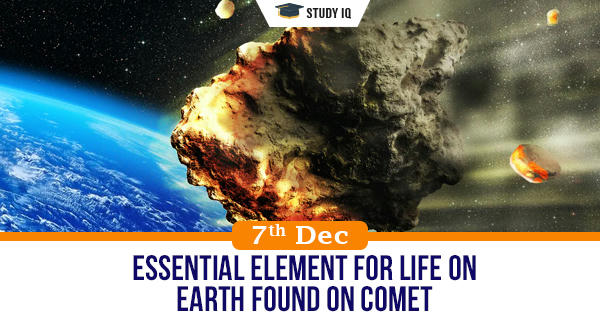 Essential element for life on Earth found on comet
Date: 07 December 2020
Tags: Miscellaneous
Issue
A new study using data from the ESA's Rosetta mission shows that the comet contains the life-critical element phosphorous.
Background
From long time there are many deliberations regarding start of life on Earth. The new discovery tries to answer the question.
Details
The raw elements for life are known as CHNOPS, which stands for Carbon, Hydrogen, Nitrogen, Oxygen, Phosphorous, and Sulphur.

Combinations of these six chemical elements make up the large majority of biological molecules on Earth. Together, they account for almost 98 percent of Earth's living matter.

Scientists had previously found the other five in comets, so finding phosphorous might be the final piece of this puzzle.

The team of researchers found the phosphorous and fluorine in the inner coma of comet 67P/Churyumov-Gerasimenko.

They were present in solid particles collected only a few kilometres from the comet by Rosetta's COmetary Secondary Ion Mass Analyser (COSIMA) instrument.

The particles were collected on the instrument's target plates, which were then photographed remotely. The individual particles were selected in the images and then measured with a mass spectrometer.

There was a lack of molecules containing soluble phosphorous on early Earth. Experiments have shown that soluble phosphorous could serve a critical role in the origin of biological molecules.

This study shows that, along with CHNO and S, P is now known to be present in comets, and those comets could have delivered P to early Earth.
Comets
A comet is an icy, small Solar System body that, when passing close to the Sun, warms and begins to release gases, a process called outgassing. This produces a visible atmosphere or coma, and sometimes also a tail.