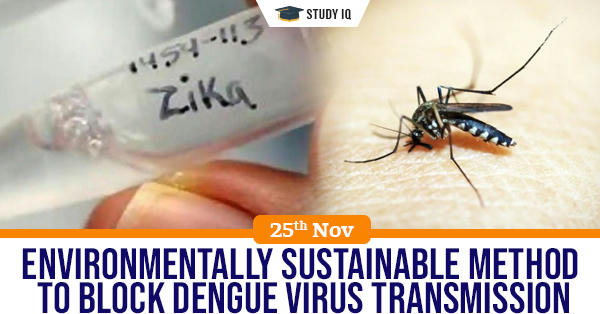 Environmentally sustainable method to block Dengue virus transmisssion
Date: 25 November 2019
Tags: Miscellaneous
Issue
An effective yet environmentally sustainable method has proved useful in blocking the transmission of mosquito-borne dengue virus.
Background
The intervention succeeded despite ongoing pesticide applications and other challenges that can make it hard for the Wolbachia to become established.
Details
Using a strain of the bacteria Wolbachia, which inhibit mosquitoes from transmitting viruses to humans, researchers were able to successfully reduce cases of dengue.

Their data shows that mosquitoes carrying the wAlbB strain of Wolbachia, when released into the wild, had the effect of reducing the incidence of dengue cases by 40 percent.

This team of researchers has shown that the wAlbB strain of Wolbachia is stable and effective, even in daily peak temperatures of 36° Celsius and higher.

Researchers released batches of Aedes aegypti mosquitoes carrying the wAlbB strain of Wolbachia into the wild, in six different sites with high levels of dengue transmission.

The Wolbachia carrying mosquitoes ,both male and female then went on to mate with the wild mosquito population, resulting in the spread and establishment of the virus-inhibiting bacteria.

In some sites, Wolbachia-carrying mosquitoes were measured at over 90 percent frequency more than a year after the mosquito releases ended.
Dengue
Dengue fever is a mosquito-borne tropical disease caused by the dengue virus. Symptoms may include a high fever, headache, vomiting, muscle and joint pains, and a characteristic skin rash.