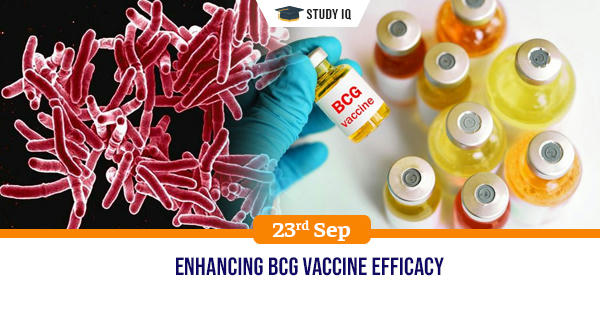 Enhancing BCG vaccine efficacy
Date: 23 September 2019
Tags: Miscellaneous
Issue
A study carried out on mice models has found that curcumin in nanoparticle form has the potential to enhance the efficacy of BCG vaccine such that it confers protection against adult pulmonary TB.
Background
BCG vaccine is effective against disseminated and meningeal TB in young children. But the protection does not last for long as the host-protective immune responses that the vaccine induces diminishes over time. Thus the vaccine is not protective in adults.
Details
The researchers found that injecting curcumin nanoparticles soon after vaccinating the mice with BCG produced an enhancement of immune memory cells (T central memory cells) responsible for long-term protection against TB infection.

In children, the vaccine induces two types of immune cells, effector memory T cells and central memory T cells.

While the effector memory T cells play a crucial role in mounting an immediate immune response against virulent TB bacteria and kill them, the central memory T cells help in long-term protection in children from childhood TB.

The central memory cells ultimately diminish. As a result, the protection does not last beyond childhood and adults become vulnerable to TB infection despite BCG vaccination.

Altering the ratio to increase the number of central memory cells will help in enhancing the efficacy of the BCG vaccine.

The nanocurcumin blocks the channel which in turn prevents the conversion of central memory cells into effector memory cells and long term TB memory is prevented from terminating.

Curcumin also helps in the activation of innate immune cells known as macrophages and dendritic cells. TB bacteria reside and grow inside the macrophages. But once activated by curcumin nanoparticles, the macrophages and dendritic cells clear the bacteria and also enhance the level of TB-specific acquired immune cells.