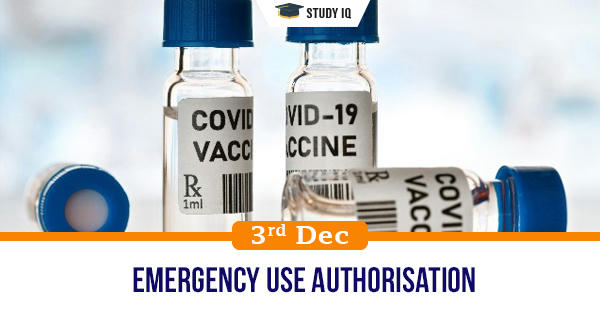 Emergency use authorisation
Date: 03 December 2020
Tags: Miscellaneous
Issue
US drug maker Moderna has said it is applying for emergency use authorization for its Covid-19 vaccine.
Background
Serum Institute of India was also planning to apply for emergency authorization for its AstraZeneca Oxford vaccine.
Details
Vaccines medicines and even diagnostic tests require approval from a regulatory authority before they can be administered. In India Central Drug Standard Control Organisation (CDSCO) is the main authority.

For vaccines and medicines, approval is granted after an assessment of their safety and effectiveness, based on data from trials.

In emergency situations, regulatory authorities along the world have developed mechanism to grant permission to use if there is sufficient evidence to suggest the medicinal product is safe and effective.

In US, the FDA grants permission for emergency use authorisation only if the potential benefits outweigh the risks from the medicine.

For that, the vaccine must show effectiveness for more than 50% during its final phase of trail to be eligible for emergency use.

In India drug regulations do not have provisions for emergency use authorisation and the process of receiving one is not clearly defined.

Any company planning to launch a vaccine tested elsewhere has to conduct trials on local Indian population to show its effectiveness.

Even after approval of vaccine, citizens cannot be forced to take the vaccine. They must be told the possible drawback before administering the vaccine.