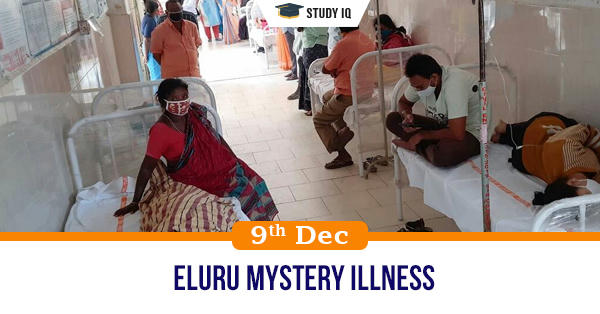 Eluru mystery illness
Date: 09 December 2020
Tags: Miscellaneous
Issue
A mystery disease has caused one death and the hospitalisation of more than 500 people in the Andhra Pradesh coastal town of Eluru.
Background
While there is a suspicion that it may be a bout of viral infection such as encephalitis, there are no traces of virus in collected samples.
Details
A preliminary study conducted by the All India Institute of Medical Sciences (AIIMS), Mangalagiri, found that it had been caused by the ingestion of metals such as lead and nickel.

Symptoms of the disease range from giddiness and convulsions to epilepsy due to neurotoxicity.

Neurotoxicity refers to damage to the brain or peripheral nervous system caused by exposure to natural or man-made toxic substances.

The chemicals were found in the bodies of the patients but not in either water or any other food substance.

Although the disease affects all age groups, over 300 of the infected are children. While the symptoms have been reported as "the same across age groups and gender," the majority are in the 20-30 year-old age group.

Symptoms include vomiting, dizziness, convulsions, seizures, nausea, anxiety, loss of consciousness, and other neurological symptoms, which have been described as being similar to epilepsy.

The individuals who have been reported to have the disease, especially children, have reported a sudden onset of vomiting after complaining of burning eyes.

The disease cause is suspected to be due to organochloride, a compound that is mainly used as a pesticide as well as anti-mosquito fogging agent.