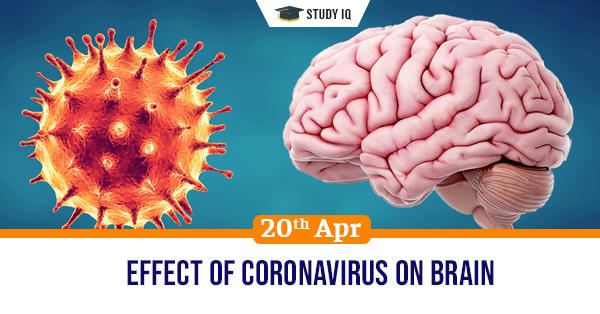 Effect of Coronavirus on brain
Date: 20 April 2021
Tags: Miscellaneous
Issue
Recent studies have indicated that coronavirus may not have much effect but still can impact health of brain.
Background
Coronavirus infection has devastating effects on lungs but its effects are felt on other main organs including heart and the brain.
Details
Study has shown that neurological changes observed in patients may be result from inflammation triggered by the virus in brain vessels or other parts of the body.

The study included detailed examination of brain of patients who died due to coronavirus infection.

The study did not find evidences of virus in the brain cells but there was evidence of infection of cells.

The brain area was observed to have suffered from lack of oxygen. This was a result of asphyxia that is common in Covid patients.

There was also evidence of brain stroke in patients. Some of these were large enough but others were very small to be detected.

Blood clots were also visible in the patients. This was because of lack of oxygen that was observed in patients.

Tests were conducted on most of the parts of the brain including the olfactory bulb as some research had indicated virus to travel to this part via nasal cavity.