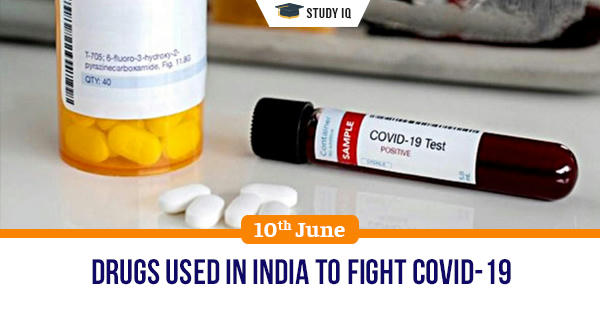 Drugs used in India to fight COVID-19
Date: 10 June 2020
Tags: Miscellaneous
Issue
As COVID-19 pandemic spreads in India and with no specific medicine, doctors are resorting to use of various drugs that can reduce effect of disease.
Details
Remdesivir, an antiviral drug first developed for treating Ebola in 2014, is one of the possible Covid-19 treatments being investigated in the WHO's Solidarity Trial. It inhibits viral replication in the body.
Favipiravir is an antiviral given to inhibit viral replication. It is used as an anti-influenza drug. First manufactured by Japan's Fujifilm Toyama Chemical Ltd, it is manufactured in India by Glenmark Pharmaceutical and Strides Pharma. It is being used for moderately symptomatic to severely ill Covid patients, but access is not easy.
This is an immunosuppressant commonly used to treat for rheumatoid arthritis. A randomised control trial has begun across several centres in India. Tocilizumab is manufactured by Roche Pharma, and marketed by Cipla. In India it is sold under the brand name Actemra.
This drug is commonly used for the skin disorder psoriasis, rheumatoid arthritis, multiple sclerosis, and autoimmune disorders. In India, Biocon launched it in 2013.
This anti-malarial drug is a subject of debate over its efficacy against Covid. The WHO halted its HCQ arm in the Solidarity Trial following a study in The Lancet, and then reinstated it after a retraction by the authors.
India is the largest producer of this drug. Doctors use HCQ use in Covid patients with symptoms as mild as headache, fever, body pain, and even in critically ill patients.
Doxycycline is an antibiotic used to fight infection in the urinary tract, eye, or respiratory tract. Ivermectin is an anti-parasite drug for treatment of scabies, head lice, and filariasis. The combination is used to treat Covid patients with acute symptoms.
These anti-virals are commonly used to treat HIV patients. They are being investigated in the Solidarity Trial. Some studies suggest they reduce mortality risk in Covid-19 patients while others have found no major improvement.
This is meant for critical patients with low oxygen saturation levels, or those suffering a cytokine storm. Patients who have recovered from severe Covid-19 donate their plasma, which is then injected into other critical patients to boost their immunity.