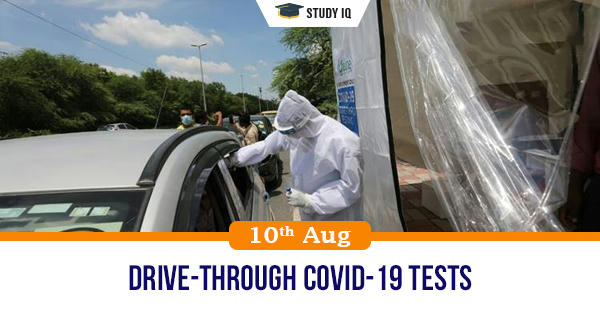 Drive-through Covid-19 tests
Date: 10 August 2020
Tags: Miscellaneous
Issue
Several private labs identified by the ICMR have started drive-through centres for sampling, a method pioneered by South Korea for which it has received praise.
Background
When Covid-19 was yet to be declared a pandemic, South Korea set up drive-through test stations as it focused on rapid and widespread testing to successfully blunt spread of the disease.
Details
At the drive-through centres, passengers and drivers go through the entire Covid-19 testing process in a matter of minutes without ever having to get out of their vehicles.

Besides limiting the exposure of frontline workers to the virus, the process also prevents asymptomatic patients from contaminating a public health facility.

The test, which includes registration, symptom check, swab sampling, and car disinfection, lasts 10?minutes on average for each person, whereas previous testing procedures took about 30?minutes.

Following South Korea, such centres have sprung up in the US, the UK, France, Israel, South Africa, Ireland and Spain.

The tests are conducted at the parking lot of the Covid-19 centre or lab, where a 30-40 metre-long stretch is turned into drive-through premises. The sample is collected with the patient sitting in his car itself. However, no two-wheelers or taxis are allowed.

To get tested, a potential patient needs three things. First is a government ID such as Aadhaar card, passport etc, the second is a doctor's prescription advising a Covid-19 test while the third is a patient proforma form.

Drive-through tests are more time saving than walk-in tests and ensure minimum exposure to both the patients and the sample collectors.

Moreover, since the person doesn't have to leave the vehicle, it reduces the risk of spreading the infection in a testing centre or lab.

It also is a safer option than home collections since people have apprehensions that the person coming to test must have gone to several houses to collect those samples.