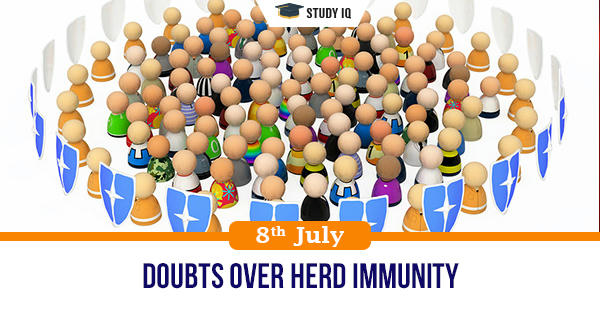 Doubts over herd immunity
Date: 08 July 2020
Tags: Miscellaneous
Issue
A Spanish study has cast doubt over the feasibility of herd immunity as a way of tackling the COVID-19 pandemic.
Background
The aim of the population-based study was to estimate the seroprevalence of SARS-CoV-2 infection in Spain at the national and regional level. Seroprevalence is the level of a pathogen in a population, as measured in blood serum.
Details
For herd immunity to work, at least 70% of a population needs to be immune to protect the uninfected people.

It is the largest serological study conducted so far in Europe and captures the true number of Covid-19 infections, which isn't captured by laboratory tests. It provides an estimate for the population of the entire country.

The study of over 60,000 people estimates that around just 5% of the Spanish population has developed antibodies.

Prevalences of IgG antibodies were adjusted using sampling weights and post-stratification to allow for differences in non-response rates based on age group, sex, and census-tract income.

The researchers noted that seroprevalence was 5% by the point-of-care test and 4·6% by immunoassay, with no differences by sex and lower seroprevalence in children younger than 10 years.

The findings suggest that majority of the Spanish population is seronegative to SARS-CoV-2 infection, even in hotspot areas.

While a seroprevalence study largely provides information only about previous exposure to the virus, this study strengthens the line of argument that in the absence of treatment or a vaccine against Covid-19, achieving herd immunity at this stage is not possible.
Herd immunity
Herd immunity refers to a situation when a certain percentage of the population have become immune to a certain disease-causing pathogen, thus preventing the infection from spreading to the rest of the population.

While the concept is most commonly used in the context of vaccination, herd community can also be reached when enough people have become immune after being infected.

The premise is that if a certain percentage is immune, members of that group can no longer infect another person. This breaks the chain of infection through the community ("herd") and prevents it from reaching those who are the most vulnerable.