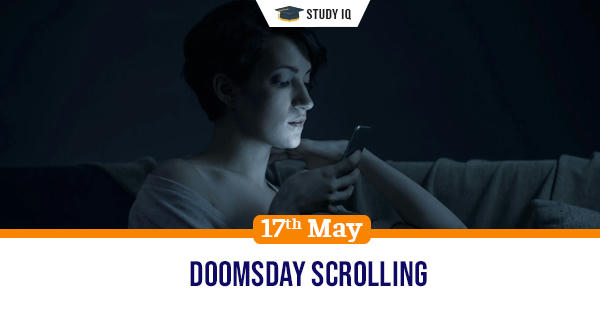 Doomsday scrolling
Date: 17 May 2021
Tags: Miscellaneous
Issue
As the pandemic is ravaging across the globe, people have been indulged in going-through disaster related news, also known as doomsday scrolling.
Details
Experts have warned us that doomsday scrolling has both benefits and threats. It may be beneficial as it may keep us updated but it may also exaggerate sense of gloom and doom.
Doomsday surfing
It is the practice of going through bad news and social media posts even though it may be depressing and saddening.

People have been continuously using their precious time in reading pandemic related news by sacrificing sleep time or work time.

This tendency has recently been named by Los Angeles Times in their new lexicon of words generated during the pandemic.
People indulging
All sections of society are doing it. Individuals between age group of 15-30 are scrolling for getting help, 30-45 years old are blaming everyone on the pandemic whereas older ones are spreading spirituality.
Reason for the activity
It becomes a sense of addiction for human beings to consume more information. Social media and news feeds more information, creating a vicious cycle.
Effects
Doomsday scrolling can generate negative thoughts and mindset. It gives us exaggerated version of reality.

Negative news will impact mental health and create sadness, anxiety, fear and other issues in human mindset.
Controlling
Reading news only from verified portal, which gives only the facts without glorifying the pandemic and its effects.

Keeping away from social media accounts that feed negative news and spreading fear. This will keep us safe from its effects.