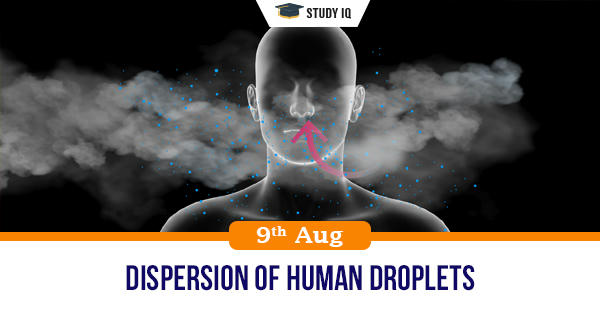 Dispersion of human droplets
Date: 09 August 2020
Tags: Miscellaneous
Issue
Amid concerns about possible aerosol transmission of Covid-19, a new study has stressed the importance of a better understanding of different droplet behaviours, and their different dispersion mechanisms based on size.
Background
Covid-19 has revealed gaps in knowledge about the physics of transmission, including a simple description of where individual droplets go when ejected.
Details
The study presents a mathematical model that clearly demarcates small-, intermediate- and large-sized droplets. Simple formulas can be used to determine a droplet's maximum range.

As a person breathes, they emit droplets of various sizes that don't necessarily follow the airflow faithfully.

The researchers said the study provides a general framework to understand the droplet dispersion. They provide formulas to predict when droplets will have short ranges.

Evaporation and dispersion of airborne sputum droplets originating from a human cough are simulated using this model combined with an initially buoyant turbulent jet.

Effects of these chemical components on evaporation rate, velocity, and temperature of droplets are investigated in detail.

Constituents of sputum droplets such as NaCl, amino acids, carbohydrates, and lipids are included.

The results obtained for sputum droplets will provide a perspective of what conditions the viruses within a droplet might face upon being ejected from the mouth during a cough.

The droplet temperature decreases rapidly from human body temperature to room temperature, which may affect the viability of any carried virus.