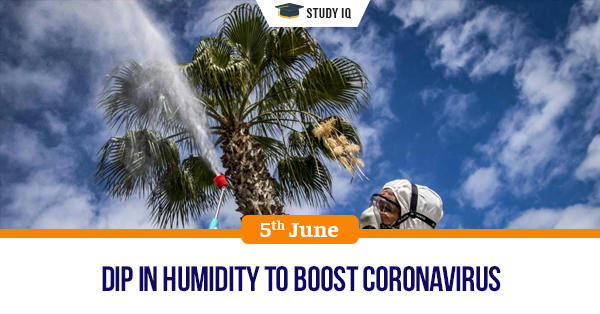 Dip in humidity to boost Coronavirus
Date: 05 June 2020
Tags: Miscellaneous
Issue
A study published in the journal Transboundary and Emerging Diseases has found an association between lower humidity and an increase in locally acquired positive cases.
Background
Coronavirus spread could neither be checked by the scorching heat of the summer nor by the chill of the winter and decrease in humidity could add to the viciousness of the disease.
Details
Previous research has identified a link between climate and occurrence of SARS-CoV cases in Hong Kong and China and MERS-CoV cases in Saudi Arabia and a recent study on the Covid-19 outbreak in China found an association between transmission and daily temperature and relative humidity.

The study found lower humidity was associated with increased case notifications; a reduction in relative humidity of one per cent was predicted to be associated with an increase of Covid-19 cases by six per cent.

There are biological reasons why humidity matters in the transmission of airborne viruses. When the humidity is lower, the air is drier and it makes the aerosols smaller.

When you sneeze and cough those smaller infectious aerosols can stay suspended in the air for longer. That increases the exposure for other people. When the air is humid and the aerosols are larger and heavier, they fall and hit surfaces quicker.

Another study revealed that while the rate of Covid-19 incidence does decrease with warmer temperatures up until 52 degrees F, further warmer temperatures do not decrease disease transmission significantly. Precipitation patterns did not appear to have any effect on virus transmission.

While the rate of virus transmission may slow down as the maximum daily temperature rises to around 50 degrees, the effects of temperature rise beyond that don't seem to be significant.