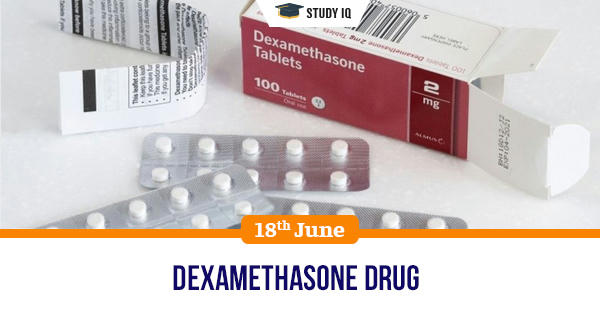 Dexamethasone drug
Date: 18 June 2020
Tags: Miscellaneous
Issue
Researchers in England have said that they have the first evidence that low doses of the steroid dexamethasone can improve COVID-19 survival.
Background
The analysis is part of the RECOVERY (Randomised Evaluation of COVid-19 thERapY) trial which was established to test a range of potential therapies for COVID-19, including low-dose dexamethasone.
Details
The drug was given either orally or through an IV. It reduced deaths by 35 percent in patients who needed treatment with breathing machines and by 20 percent in those only needing supplemental oxygen. However, it did not appear to help less ill patients.

Dexamethasone is a low-cost steroid that has been used since the 1960s to reduce inflammation in a range of conditions, including inflammatory disorders and certain cancers.

It is used to treat many different conditions such as allergic disorders, skin conditions, ulcerative colitis, arthritis, lupus, psoriasis, or breathing disorders.

It has been listed on the World Health Organization (WHO) Model List of Essential Medicines since 1977 in multiple formulations and is currently off-patent and affordably available in most countries.

In the study, scientists found that dexamethasone reduced deaths by one-third in ventilated patients, and by one fifth in other patients receiving oxygen only.

However, the researchers said there was no benefit from dexamethasone among the patients who did not require respiratory support.

Based on these results, the scientists believe that the drug could prevent nearly one death in the treatment of around eight ventilated patients, or around 25 patients requiring oxygen alone.

The drug is inexpensive on the shelf and can be used immediately to save lives worldwide without having to generate cheaper alternative.

The drug is banned in-competition by the World Anti-Doping Agency (WADA) but its usage is allowed out-of-competition if athletes have the requisite Therapeutic Usage Exemption (TUE).