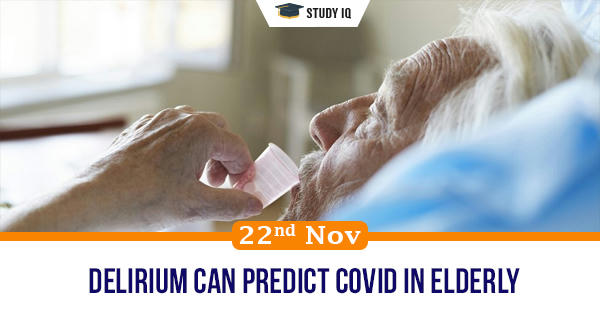 Delirium can predict Covid in elderly
Date: 22 November 2020
Tags: Miscellaneous
Issue
A new study supports evidence that delirium can predict coronavirus infection in older patients who show no other typical symptoms of Covid-19.
Details
Even beyond Covid-19, delirium is a common symptom in older adults with severe disease. And in Covid-19, adults aged 65 years and older are at greatest risk of severe disease, and death.

The researchers found that almost a third of the elderly patients had delirium. A delirium diagnosis was the main presenting symptom for 16% of those patients, and 37% had no typical COVID-19 symptoms.

Delirium was the sixth most common presenting symptoms in all patients. The researchers stressed the importance of including delirium on the checklist of Covid-19 symptoms.
Delirium
Delirium is an abrupt change in the brain that causes mental confusion and emotional disruption. It makes it difficult to think, remember, sleep, pay attention, and more.

Delirium is experienced during alcohol withdrawal, after surgery, or with dementia. Delirium is usually temporary and can often be treated effectively.

Diseases that cause inflammation and infection, such as pneumonia, can interfere with brain function. Additionally, taking certain medications (such as blood pressure medicine) or misusing drugs can disrupt chemicals in the brain.

Depending on the cause of the delirium, treatment may include taking or stopping certain medications.

In older adults, an accurate diagnosis is important for treatment, as delirium symptoms are similar to dementia, but the treatments are very different.