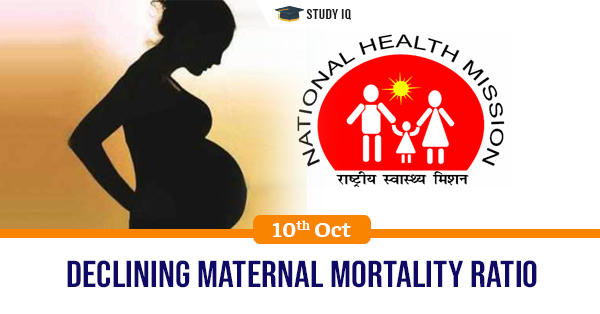 Declining Maternal Mortality Ratio
Date: 10 October 2019
Tags: Miscellaneous
Issue
There has been acceleration in decline of Maternal Mortality Ratio (MMR), Under Five Mortality Rate (U5MR) and the Infant Mortality Rate since the launch of the National Health Mission (NHM)/National Rural Health Mission (NRHM).
Background
India aims to reduce the global maternal mortality ratio to less than 70 per 100,000 live births by 2030. At the current rate of decline, India should able to reach its SDG target in this area much before the due year.
Details
The maternal mortality ratio (MMR) is the ratio of the number of maternal deaths during a given time period per 100,000 live births during the same time-period.

A maternal death refers to a female death from any cause related to or aggravated by pregnancy or its management (excluding accidental or incidental causes) during pregnancy and childbirth or within 42 days of termination of pregnancy.
Reasons for mortality
severe bleeding (mostly bleeding after childbirth)

infections (usually after childbirth)

high blood pressure during pregnancy (pre-eclampsia and eclampsia)

complications from delivery.

unsafe abortion.

Indirect causes are malaria, anaemia,[9] HIV/AIDS, and cardiovascular disease, all of which may complicate pregnancy or be aggravated by it.

Risk factors associated with increased maternal death include the age of the mother, obesity before becoming pregnant, other pre-existing chronic medical conditions, and cesarean delivery.
Preventing mortality.
It is recommended that expectant mothers receive at least four antenatal visits to check and monitor the health of mother and fetus.
Emergency backup such as doctors, nurses and midwives who have the skills to manage normal deliveries and recognize the onset of complications.
To address the major causes of maternal death which are hemorrhage, sepsis, unsafe abortion, hypertensive disorders and obstructed labour.
Providing care till six weeks following delivery. During this time, bleeding, sepsis and hypertensive disorders can occur, and newborns are extremely vulnerable in the immediate aftermath of birth.