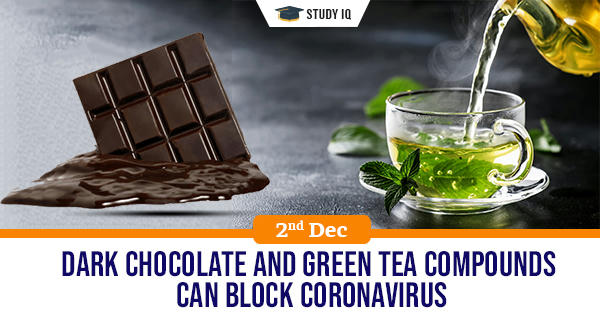 Dark chocolate and green tea compounds can block coronavirus
Date: 02 December 2020
Tags: Miscellaneous
Issue
A new study suggests that certain nutraceutical compounds like flavanols and proanthocyanidins (PAs) found in some plant-based sources can inhibit SARS-CoV-2 proteins or proteases.
Background
Recent studies not only show that immunonutrition can play a huge role in the prevention of and recovery from COVID-19 infection but also suggest that plant extracts have the potential of blocking the SARS-CoV-2 virus.
Details
Flavanols have already been shown through research to be effective in lowering blood pressure levels and promoting cerebrovascular and cognitive functions.

The researchers behind the new study used dynamic docking simulations to introduce various subtypes of flavanols and proanthocyanidins to SARS-CoV-2 protease on a computer.

The phytonutrients were extracted from five plant sources: green tea, cacao seed powder, dark chocolate (from Ecuador), and two types of muscadine grapes.

Analysis showed that some of the compounds were also able to block protease activity and replication.

Rich extracts from the food sources were also used to create an inhibitory assay which confirmed the fact that these compounds can effectively inhibit SARS-CoV-2 protease activity.

The researchers concluded that these nutraceutical compounds and rich extracts of green tea, muscadine grapes, cacao powder and dark chocolate can be used widely to effectively stop the devastation caused by the SARS-CoV-2 virus.