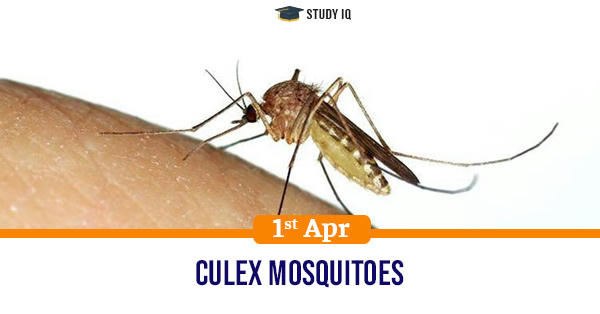 Culex mosquitoes
Date: 01 April 2021
Tags: Miscellaneous
Issue
Common house mosquitoes known as Culex have reappeared across the National capital after a change in season.
Background
Culex mosquitoes are common across these areas and have the ability to spread diseases. Many housing areas have complained about rise in mosquito numbers.
Details
The main reason for the growth of these mosquitoes is warmer temperatures. They numbers is particularly high in areas around floodplains.

Culex mosquitoes grow and breed in unclean stagnant water. They are different than Aedes aegypti that breed in clean water and spread diseases such as Dengue and Chikungunya.

Culex mosquitoes are fatal because they cause a dangerous disease known as Japanese Encephalitis, where brain inflammation takes place.
Role of weather
Water stored in depressions in the flood plains where some water still remains and are ideal breeding grounds for Culex.

The ideal temperature conditions for their breeding and growth is between 10 degrees Celsius and 40 degrees Celsius.
Controlling mosquitoes
The process involves placing mosquito larvicidal oil-coated blocks in major drains, which create a layer on the surface that prevents growth of larvae.

Long-acting insecticides are also used to paralyse mosquitoes. Sprays and medicines are also put inside the drains to control their population.