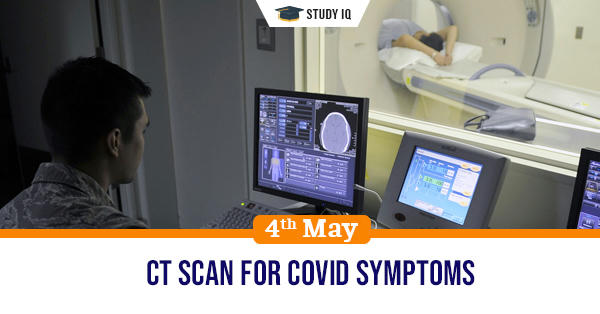 CT scan for Covid symptoms
Date: 04 May 2021
Tags: Miscellaneous
Issue
Large number of people are standing outside CT scan centres to check if they are in infected with Covid-19.
Background
Covid-19 infection can be confirmed by various methods including RT-PCR but CT scans also offer greater insight into severity of the infection.
Details
Patients with mild and severe symptoms have been visiting Ct scan centres to assess their infection while negative patients with symptoms are also interested.

Doctors usually recommend patients with severe and worsening conditions for CT scan to check the magnitude of infections.

They suggest that patients whose symptoms are not subsiding even after a week or those with oxygen level below 95 should get their CT scans done.
Need for CT scans
CT scans make use of multiple X-rays and computer generated process to give a picture of body or any of the part.

It is more precise and shows better insights than normal X-ray scans. People without serious concerns should avoid exposing their body to such unnecessary radiations.

People with mild symptoms may transmit their infection to other patients visiting the centre and thus should avoid scans without report of the doctor.
CT scan
A CT scan is a technique used for medical imaging that uses rotating X-ray machines to provide more detailed information of the body.

CT scans have the ability to show blood vessels, soft tissues, and bones in various parts of the body.