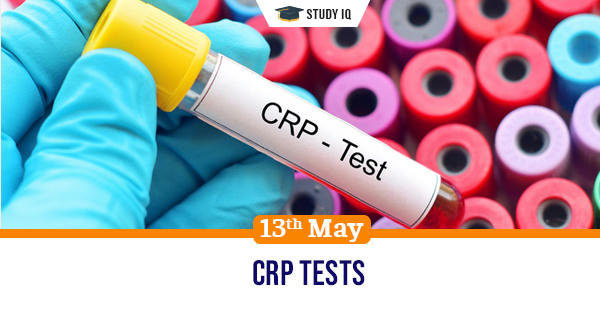 CRP tests
Date: 13 May 2021
Tags: Miscellaneous
Issue
Doctors are recommending C - reactive protein tests to Covid patients who are in home isolation with lesser symptoms.
Background
As the pandemic is strengthening, may tests are emerging that helps in gauging infection level and condition of patients.
Details
The test is usually done for patients hospitalised for serious Covid-19 infection. It is not done for moderate symptoms.

The CRP test provides inflammation level in the body during a disease that is an indication of infection level.

If the CRP level is more than the normal level than it indicates that infection is also increasing. It is suitable for all ailments.

It is an indicator of C- reactive proteins that are produced by Liver in blood. It can show at what level an individual is suffering.
Use of CRP tests
The tests are recommended by doctors in those patients with critical conditions as the test will be an indicator of body's reaction to treatment.

It is also used by doctors to suggest the medications and also further tests if the condition of home isolated patients is not improving.

It is not necessary for patients in home isolation until they still show the same symptoms even after 5 days of infection.

The test should be conducted twice within an interval of 4/5 days to understand the complication level.

Doctors use the test as an indicator to suggest steroid to prevent hospitalisation. It will also help in knowing if oxygen may be required.