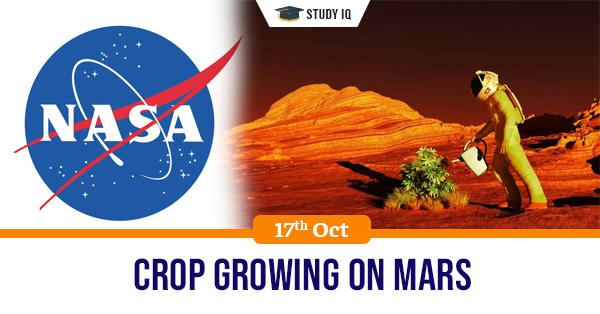 Crop growing on Mars
Date: 17 October 2019
Tags: Miscellaneous
Issue
Scientists have produced crops in Mars and lunar soil simulant developed by NASA. This has proved that it is possible to grow food on the Red Planet and the Moon to feed future settlers.
Background
To sustain life beyond earth, it is necessary to arrange for food needs of the population. Agriculture outside the earth is always said to be difficult to achieve considering differences in soil composition.
Details
The scientists cultivated ten different crops, including garden cress, tomato, radish, rye, quinoa, spinach, chives, and peas.

The researchers simulated the properties of Lunar and Martian regolith and normal soil potting soil from Earth which was used as a control.

Nine of the ten crops sown grew well and edible parts were harvested from them except spinach.

Total biomass production per tray was the highest for the Earth control and Mars soil simulant and differed significantly from Moon soil simulant.

The seeds produced by three species ,radish, rye and garden cress were tested successfully for germination.
Significance
When future humans colonise Mars or Moon, the food products need not be transported from earth. Instead only necessary ingredients like seeds can be transported.

Plants could well start the begining of life on Mars, with large habitat available for their sustainance.