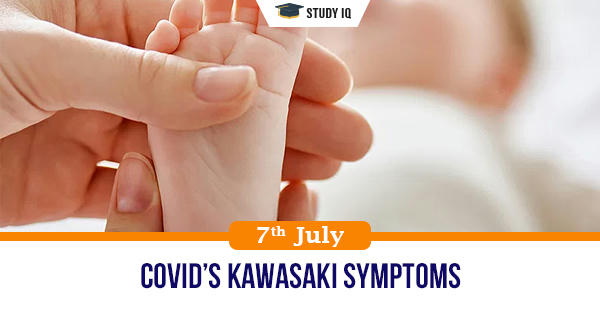 Covid's Kawasaki symptoms
Date: 07 July 2020
Tags: Miscellaneous
Issue
Around the world, children with Covid-19 infection have often shown some symptoms similar to those associated with a rare illness called Kawasaki disease.
Background
Symptoms such as inflammation and rashes have been found but others are absent. Such symptoms have also shown in children who tested negative for Covid-19.
Details
The first such cases started getting reported since April, from the US and Europe. The World Health Organization (WHO) termed this new illness "multisystem inflammatory disorder".
Kawasaki disease
It affects children. Its symptoms include red eyes, rashes, and a swollen tongue with reddened lips — often termed strawberry tongue — and an inflamed blood vessel system all over the body. There is a constant high fever for at least five days. The disease also affects coronary functions in the heart.

The disease derives its name from a Japanese pediatrician, Tomisaku Kawasaki, who reported the first case in 1961 and later found similar cases in other children.

What causes Kawasaki disease is not yet known but it is an immunological reaction to an infection or a virus. A child's immunity system responds to a particular infection and develops these symptoms.

Children with Covid-19 are mostly asymptomatic or develop mild symptoms. It has been in rare cases that children with Covid-19 have shown symptoms similar to those of Kawasaki disease, 2-3 weeks after getting infected with coronavirus.

Kawasaki typically affects children aged under five. In Covid-19 cases, even adolescents are presenting these symptoms.

While Kawasaki involves coronary changes, this has not been the case with all COVID-19-positive children with Kawasaki-like symptoms.

Steroids remain a key treatment to reduce inflammation. India is not maintaining any registry on Kawasaki-like disease or multisystem inflammatory syndrome to know how many children have it along with Covid-19.