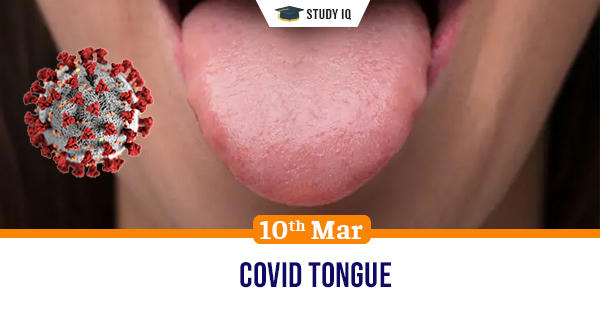 Covid tongue
Date: 10 March 2021
Tags: Miscellaneous
Issue
A Covid symptoms study app has identified a phenomenon known as Covid tongue to be a new symptom of Covid-19.
Background
A large number of people submit their symptoms to the app that allows the app to identify new variety of symptoms associated with the disease.
Details
Covid tongue is a form of inflammation disorder that usually is seen on the top and sides of the tongue.

Individuals suffering from covid symptoms will have tongue with bald, red area of different sizes that is surrounded by an irregular white border.

The affected areas on tongue can change quickly in size and shape similar to continental drift and hence the disease is also called Geographic Tongue (GT).

The conditions for Geographic Tongue are not known and it is assumed that the condition can occur anytime during our lifetime.

Factors such as emotional stress, psychological factors, habits, allergies, diabetes and hormonal disturbances are said to be behind this condition.
Relations with covid-19
There are assumptions that GT could be associated with high levels of Cytokine protein that is responsible for cytokine storm.

The tongue also has large expression of ACE2 receptor that the spike protein of the SARS-CoV-2 virus binds while infecting cells.
Lesser known symptoms of Covid-19
Covid toe cases were identified from Spain and the US. The condition causes purple, blue or red discolouration of the toes.

Some long term symptoms of covid-19 are fatigue, shortness of breath, cough, joint pain and chest pain.

Kawasaki disease symptoms of high fever and swollen arteries are also commonly reported among covid-19 patients.