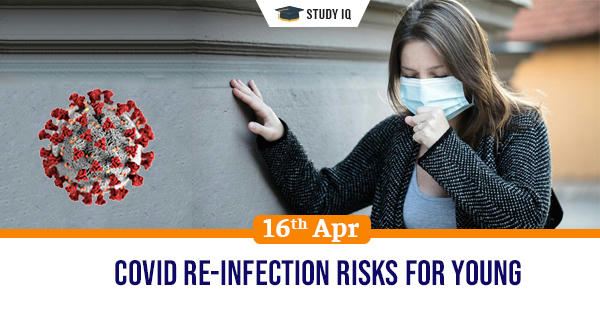 Covid re-infection risks for young
Date: 16 April 2021
Tags: Miscellaneous
Issue
The past infection to covid will not prevent re-infection in young people, according to a study published in Lancet.
Background
There was a belief that people infected by covid will not be getting re-infection. However, this belief has been falsified.
Details
The study was carried among healthy members of the US Marines Corps between the age group of 18-20 years.

In the course of study, about 10 percent of the participants who were earlier infected with virus got re-infected.

The study however is not universal as it was conducted in marines who live in congested areas and have a high chance of infection.

A similar study in Britain also found that individuals not previously infected had a five times higher risk of getting the infection in comparison to those who were previously infected.
Observations
The study suggests that natural anti-bodies formed during infection will not guarantee complete protection from covid.

To boost the chances of immunity, it is necessary to take vaccine. It will enhance the antibody count to tackle the infection.
Reasons
Individuals who became re-infected had lower antibody levels against the SARS-CoV-2 virus than those who did not become re-infected. Neutralising antibodies were also low.

The viral load among re-infected individuals was about 10 times lower than those who were infected for the first time. Re-infected individuals can still transmit the infection.