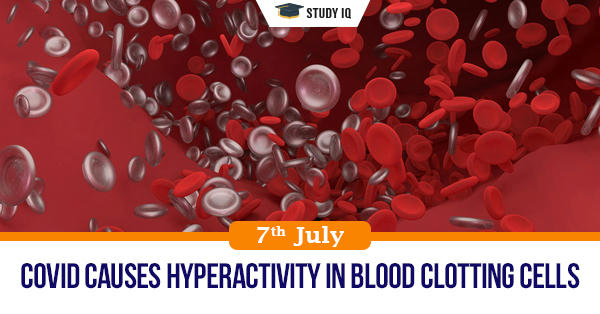 Covid causes hyperactivity in blood clotting cells
Date: 07 July 2020
Tags: Miscellaneous
Issue
Scientists say that COVID causes changes in blood platelets that can, in some patients, contribute to the onset of heart attacks, strokes, and other serious complications.
Background
Researchers compared to blood from these patients with samples taken from healthy individuals matched for age and sex.
Details
Emerging evidence suggests COVID-19 is associated with an increased risk of blood clotting, which can lead to cardiovascular problems and organ failure in some patients, particularly among those with underlying medical problems such as diabetes, obesity, or high blood pressure.

Using differential gene analysis, the researchers found that SARS-CoV-2, the virus that causes COVID-19, appears to trigger genetic changes in platelets

They found that inflammatory proteins produced during infection significantly alter the function of platelets, making them "hyperactive" and more prone to form dangerous and potentially deadly blood clots.

The researchers did not, however, detect evidence of the virus in the vast majority of platelets. This suggested that it could be promoting the genetic changes within these cells indirectly.

They also noted that these changes significantly altered how platelets interacted with the immune system, likely contributing to inflammation of the respiratory tract that may, in turn, result in more severe lung injury.

The researchers found that pre-treating platelets from SARS-CoV-2 infected patients with aspirin did prevent this hyperactivity. These findings suggest aspirin may improve outcomes.

If covid's interaction between megakaryocytes or platelets is known, it could be stopped so that clots are not formed.