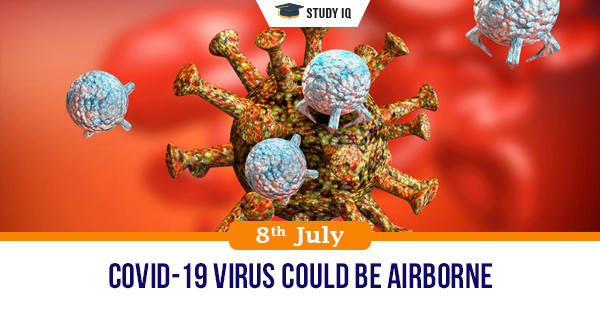 Covid-19 virus could be airborne
Date: 08 July 2020
Tags: Miscellaneous
Issue
A group of 239 scientists from 32 countries have written an open letter to the World Health Organization (WHO) that the virus causing Covid-19 can remain airborne for a period of time and thus transmit itself.
Background
The scientists have outlined the evidence showing that smaller particles can infect people, and are calling for the agency to revise its recommendation.
Details
A respiratory infection such as Covid-19 is transmitted through droplets of different sizes. If the droplets particles are larger than 5-10 microns in diameter, they are referred to as respiratory droplets; if they are smaller than 5 microns in diameter, they are referred to as droplet nuclei.

The WHO's viewpoint is that droplets containing the virus, produced during speech, coughing, sneezing etc, are larger than 5-10 microns in diameter and eventually succumb to gravity and fall to the ground after travelling less than 1 metre.

The scientists, on the other hand, are citing evidence that the virus can be present in droplet nuclei (less than 5 microns in diameter) that do travel distances longer than 1 metre and can remain in the air for a longer time.

If the evidence being cited has to be examined, researchers will look at the specific settings in which the virus was found airborne, the duration for which the virus was found staying in the air, and, most importantly, whether the virus continues to be infectious throughout this duration.

Previously a study was conducted to determine the stability of SARS-CoV-2 (and SARS-CoV-1, which causes SARS) in aerosols and on various surfaces. It found that SARS-CoV-2 remained viable in aerosols throughout the duration of the experiment that lasted for three hours.