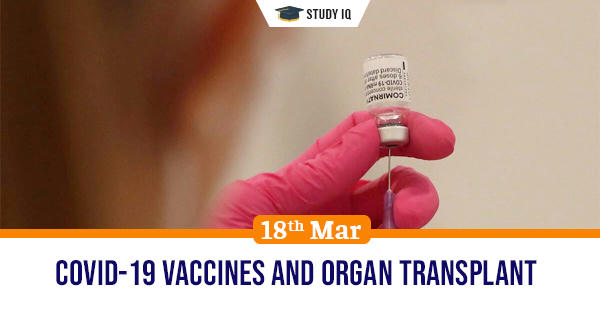 Covid-19 vaccines and organ transplant
Date: 18 March 2021
Tags: Miscellaneous
Issue
Scientists are studying how COVID-19 vaccines will protect organ transplant recipients and what precautions people on immuno-suppressants should take.
Background
Currently, large number of population have undergone organs transplant and have a weakened immune system owing to medicine.
Details
Organ transplant recipients take strong immune-suppressing drugs to prevent organ from getting rejected by the body, which also increases their risk from the coronavirus.

This feature had prevented them from being part of vaccine study. Because of this, there is not enough evidence of effects of vaccine on transplant patients.
Study
Researchers studied people who obtained new organs in transplant in recent years and were getting the Pfizer or Moderna vaccines.

Few days after the first dose, about 17% of the organ transplant recipients developed antibodies against the disease.

Patients whose medications include a drug called an anti-metabolite were less likely to respond to the vaccine than those who don't require that kind of drug

Researchers suggest that transplant recipients do not relax after taking the shot but undergo blood test to determine immunity.