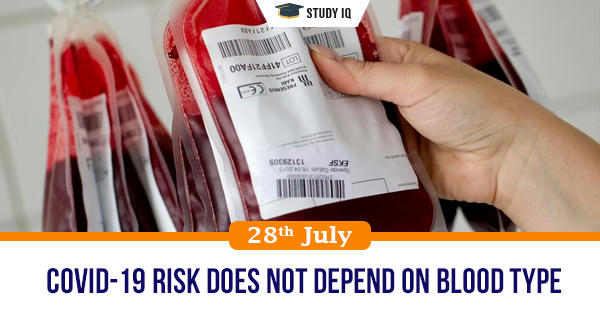 Covid-19 risk does not depend on blood type
Date: 28 July 2020
Tags: Miscellaneous
Issue
Early in the COVID-19 pandemic, researchers found preliminary evidence suggesting that people's blood type might be an important risk factor for being infected by the virus and for falling dangerously ill.
Background
After looking at thousands of additional patients with COVID-19, scientists are reporting a much weaker link to blood type. Researchers did not find that Type A blood increases the odds that people will be infected with COVID-19.
Details
The new reports do find evidence that people with Type O blood may be slightly less likely to be infected. But the effect is so small that people shouldn't count on it.

The researcher found that people with Type A blood were at a somewhat lower risk of being placed on ventilators.

People who were Type AB were at a higher risk, but the scientists cautioned that this result might not be reliable because there were so few patients with that blood type in their analysis.

The researchers also found that people with Type O were slightly less likely to get COVID-19. But blood type did not affect whether people would have to be placed on ventilators, or their odds of dying.

Blood group would not be a factor when assessing the risks and conditions of a Covid-19 patient and it would also not decide whether an individual faces risks of infection due to a certain blood type.