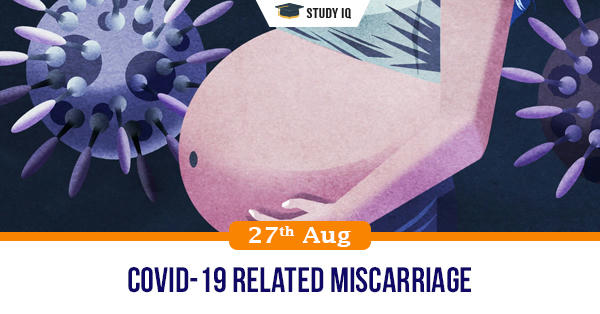 Covid-19 related miscarriage
Date: 27 August 2020
Tags: Miscellaneous
Issue
A Mumbai woman in her late 20s has become the first to suffer a miscarriage due to Covid-19 in India. This has put the focus back on effects of Covid-19.
Background
There are not many known Covid-19-related complications in pregnancy, and there is limited research on how the novel coronavirus affects the unborn child.
Details
Some early studies had found that the placenta, supposed to protect the foetus from infections, in fact acts as a reservoir for SARS-CoV-2.

The woman had contact with a Covid-19 positive case when she was eight weeks pregnant. She had no symptoms, but a precautionary nasopharyngeal test returned positive for the virus, and she was admitted to institutional isolation.

About four weeks later, a second test showed no trace of the virus in her nasopharyngeal tract. She was healthy, but a week later (when she was 13 weeks pregnant), a routine ultrasound test found that the foetus had died.

The unborn baby suffered from a condition called 'hydrops fetalis', which is the abnormal accumulation of fluid in the body. It was suspected to have been caused by inflammation.

The pregnant woman had tested negative for Covid-19 in a repeat test, which meant the virus had cleared from her throat and nasal tract, but the infection may have travelled towards the womb.

The placenta, amniotic fluid from the gestational sac, and the foetal membrane were tested – and the placenta and amniotic fluid showed active SARS-CoV-2 virus replication. This was surprising because it had been over five weeks since the woman was infected.

Doctors concluded that placental infection due to Covid-19 had led to inflammation and the death of the foetus.

A similar case of miscarriage was recorded in a 28-year-old woman in Switzerland in March. The woman, who was obese and infected with the virus, gave birth to a stillborn child in the second trimester.

It is not clear why the coronavirus infects the placenta in some cases, and does not in other pregnancies.

The placenta acts as a barrier that protects the foetus in the uterus from external infections. But some studies have suggested it may in fact act as a reservoir for the coronavirus, allowing it to replicate.

Research found the placenta has an abundance of 'S protein proteases' and 'ACE2' receptors during the first, second, and third trimesters, both of which act as an entry point in the cell for SARS-Cov-2.