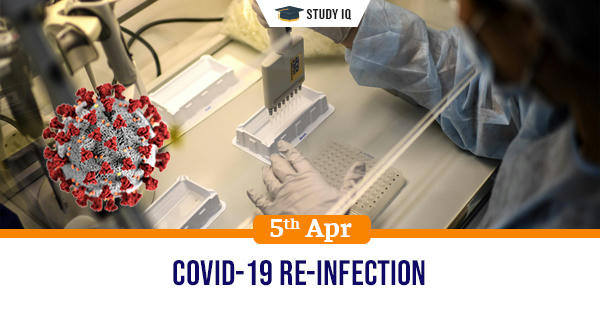 Covid-19 re-infection
Date: 05 April 2021
Tags: Miscellaneous
Issue
Indian Council of Medical Research (ICMR) has conducted a research to identify the possible ways of SARS-CoV2 re-infection.
Background
The study was focused on individuals who were infected by Covid-19 twice and their tests were conducted before finding positivity.
Details
The covid-19 re-infection is a hotly debated topic and there is no clear evidence whether a person infected once can develop permanent immunity against the disease, or can get re-infected after a period of time.

There are several cases of people getting infected more than once but all cases are not considered cases of re-infections.

The study found that 58 of the 1,300 individuals tested could be considered as re-infected. This was about 4.5% of the sample size.

Out of the 58 people who tested positive, their positivity result had to be atleast 102 days apart with a negative result in between.
Importance of study
Understanding possibility of re-infection is a crucial factor in fighting the pandemic by making strategies.

It will help in controlling disease, finding alternate to physical distancing and also dependence on use of facial masks.

The study will help in distinguishing re-infection from active virus shedding that takes place in infected individuals.

The study indicates that permanent immunity cannot be guaranteed. New ways have to be identified to protect against re-infection in individuals.
Determining re-infection
Scientists make use of genome sequencing to determine if there is a re-infection. This is because virus sample from both infections have different genetic variations due to mutations.

This process is not full proof because genome sequence of previous sample is not available to compare with the existing sample to determine re-infection.