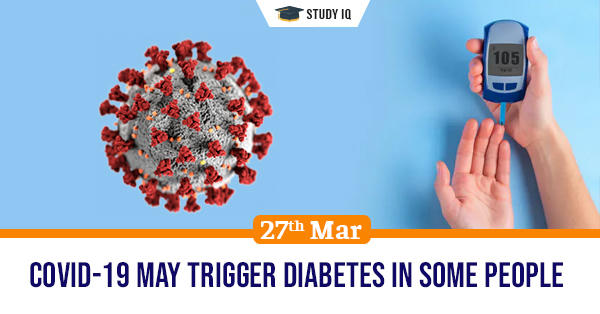 Covid-19 may trigger diabetes in some people
Date: 27 March 2021
Tags: Miscellaneous
Issue
Recent studies have shown that Covid-19 may trigger diabetes in some sections of people.
Details
Scientists identified that diabetes cases rose last year across the globe as Covid-19 cases surged. This was observed even in people who do not have family history of diabetes.

This forced them to launch a study dedicated to understand the cause of diabetes growth and see if there are links with specific conditions.
The study
The study reported both Type 1 and Type 2 diabetes in samples collected across the globe. In Type 1 diabetes, the body attacks the cells in the pancreas that produce insulin whereas in Type 2 body still produces some insulin, which is not enough.

Scientists now think that the Covid-19 virus has a feature that can cause sugar metabolism to malfunction.

A study of hospitalised Covid-19 patients showed that 14% of those developing Covid-19 have diabetes. A similar study found about 4.9% patients developed diabetes.
Possible reasons
There is a theory that disease causing SARS-CoV-2 virus directly attacks insulin-producing cells in the pancreas.

There is another theory which says that virus may attack pancreas' other part or blood vessels that supply it with oxygen and nutrients.

Some scientists also say that the virus attacks some other organs such as small intestine that reduces ability to break down glucose.

Several Covid-19 patients are treated with steroid medicines such as dexamethasone that increase blood sugar levels.

Viral infections can cause the stress hormones such as cortisol to increase, which can cause blood sugar levels to rise.

Among some patients diagnosed with diabetes, their diabetic symptoms eventually went away and their blood sugar returned to normal levels after the infection.